Patio & Walkway Installation
A Great Choice Lawn Care and Landscaping has been installing patios and walkways throughout the greater Binghamton and Ithaca region for over 25 years. As an experienced and trusted patio installation contractor, our hardscape team can help you create the outdoor patio of your dreams and provide your family with an outdoor living area so you can enjoy the beautiful upstate summer weather and get the most out of your space. Whether you're looking for a high-end stone patio or basic concrete pavers, every project we take on is our number one priority with an on-site project manager to see your outdoor patio installation through to completion.
Let our Experts Guide you in making a Great Choice
Not sure what type of outdoor patio you're looking for? No problem. You can schedule a free consultation with our team and we'll give you many options to perfectly fit your budget. After all, a jaw-dropping outdoor entertaining area that is built to last doesn't need to mean a jaw-dropping price tag that will blow your budget. During our initial consultation we'll review with you many patio options including patio size, shape, potential drainage issues, stone type and more. If you previously had an outdoor patio installed by another contractor that is already falling apart, be sure to view our hardscape/landscape repair page and check out our patio repair gallery.
Types of Patio Features We Install
Over the years our patio construction projects have been as diverse as the customers we serve throughout greater Binghamton and the Ithaca region. From a simple front door landing made from concrete block, to a 500 sq. ft. bluestone masterpiece overlooking Seneca Lake, we put quality and craftsmanship into every project we put our name on.
Before Patio Hardscape Install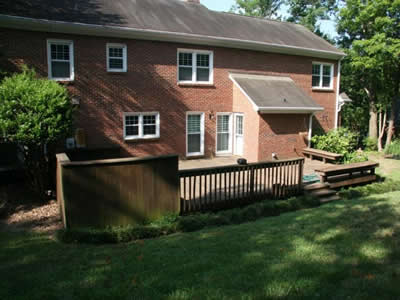 After Patio Hardscape Install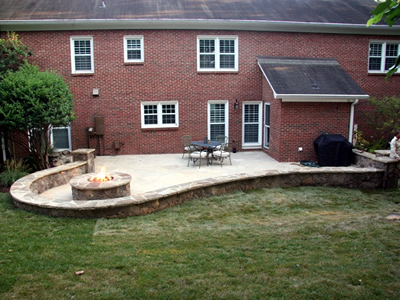 Our patio services and features include:
Patio Design Consultation
Patio Design & Planning
Patio Installation
Patio Fire Pits
Patio Stairs (natural stone and concrete)
Patio Retaining Walls
Pool Patios and Landscaping
Patio Walkways
Patio Planting Boxes
Types of Patio and Walkways We Install
There are two types of patios and walkways a hardscape contractor will install in your backyard. One is a paver patio and the other is a natural stone patio such as bluestone.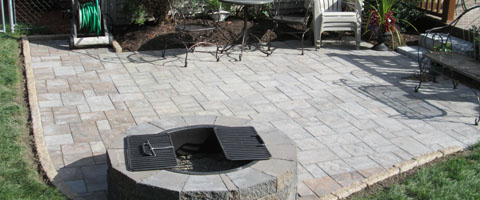 Paver Patio Construction
Pavers are pre-formed concrete blocks made to simulate materials such as brick, tile, stone, and even chiseled stone. The use of concrete patio blocks in hardscape construction has been gaining in popularity over the years to patio pavers having many advantages and few drawbacks. Increased durability, lack of cracking and ease of installation help make your backyard beautiful and keep your budget in check. Over the years there has been a dramatic improvement in the variety and patterns to choose from when constructing with pavers. Another safety advantage is that pavers lie flat after installation, eliminating the possibility of a stumble or fall caused by the irregular shape of natural stone pavers. As a Cambridge Paver Certified Installer, we only use the best materials available in the industry to ensure your installation is built tough and can withstand the harsh Binghamton and Ithaca NY winter weather.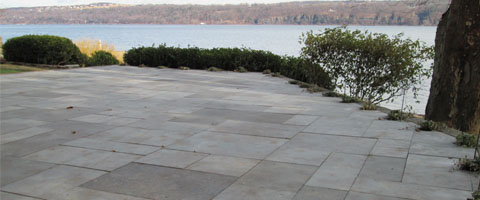 Natural Bluestone Patio Construction
Pennsylvania bluestone is one of the most beautiful and sought after varieties of flagstone due to its unique color and smooth finish. Blues, grays, tans and purples make for an amazing color combination that will make your outdoor living area stand out from the norm. Since bluestone cleaves easily, you're guaranteed a uniform, smooth and safe surface that will withstand the harshest of conditions. While pricier than patio pavers, a natural bluestone patio will no doubt increase the value of your home and keep guests at your backyard BBQ talking.
Paver and Stone Walkways
A Great Choice Lawn Care and Landscaping have created beautiful stone and paver walkways in every shape and size. Whether you're connecting a patio to a pool or creating a beautiful walkway to wrap around your house, we have the walkway installation experience to handle every size of project. We only use permanent edging restraints on all of our walkways to ensure your walkway lasts for decades with minimal upkeep over the years. There is no better way to add style and function to your outdoor living area than a walkways constructed by our team of experts.
Get a Patio or Walkway Installation Estimate Today
The professionals at A Great Lawn Care and Landscaping have been installing patios and walkways in Greater Binghamton and Ithaca for over 20 years. Make your dreams come alive and enjoy the short but beautiful northeast summer weather by beautifying your outdoor space. Get a no-obligation online estimate or call (607) 729-3451 to schedule an appointment today.
GET A FREE

ESTIMATE
Fill out the short form below for a FREE routine maintenance estimate or landscaping project estimate.
---
Your e-mail will never be spammed or shared with 3rd parties.